Thai kindergarten forces students to wear military uniform, sparks outrage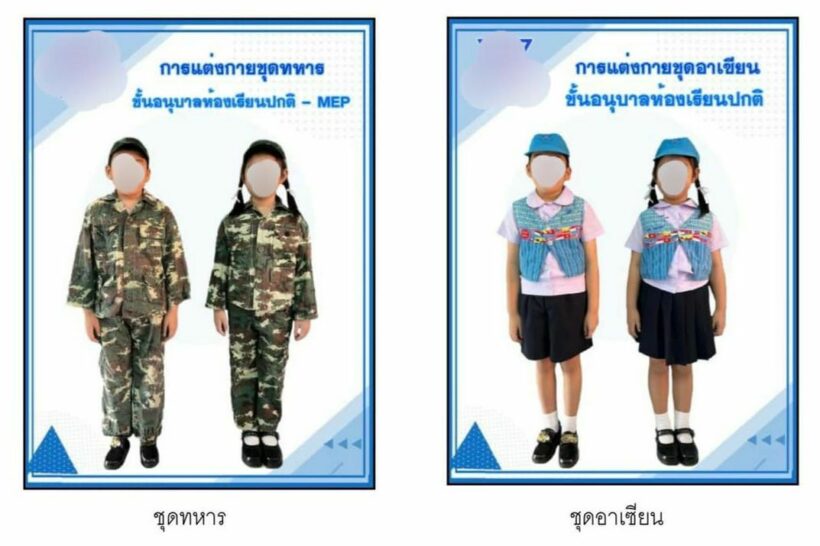 A Thai kindergarten has been criticized online for forcing students to wear 4 different uniforms, including a "military uniform" on Thursdays. The public school in the western province of Kanchanaburi informed parents that they should buy the new uniforms before the start of the new term on May 17.
The preschool wants children aged 4 to 6 to wear 4 different uniforms: a "normal" school uniform on Monday and Tuesday, a PE uniform on Wednesday, a soldier uniform on Thursday and an "ASEAN" uniform on Friday, which flies an ASEAN flag.
The school posted an announcement about the uniform changes on Facebook, which attracted a lot of attention from concerned netizens who expressed their dissatisfaction with the costs of buying 4 new sets of uniforms, especially in light of the current high cost of living.
Netizens in the comments section were mostly concerned about Thursday's military uniform…
"What is the soldier's uniform for?"
"Do we live in North Korea?
However, getting children interested in the military is nothing new in Thailand. Every year on "Children's Day", it is normal for parents to take their children to military and air shows to pose for photos in front of military tanks and artillery.
Military-related Children's Day activities have always been widely accepted, but have been questioned by political activists in recent times. Political artist Headache Stencil held an exhibition in Bangkok in 2020 called "Propaganda Children's Day", which featured a huge sculpture of a military tank covered in graffiti. The artist said the exhibit was designed to challenge the motivations surrounding military-related Children's Day activities, which he criticized as propaganda to encourage Thai children to join the military when they get old.
The school responded to criticism by saying the purpose of the military uniform is for a school activity called "Land Protection Army", which aims to promote patriotism, religion and the monarchy. The school said the activity is similar to Boy Scouts and Girl Scouts and promotes discipline.
The nursery school said it tried to find the cheapest tailor so parents wouldn't have to shell out ridiculous sums of money to send their children to school. Uniforms cost 300 baht per set.
However, since coming under fire, the school has been discussing whether to cancel Friday's ASEAN uniform to help parents save money. They also offered to pay half the cost for parents who needed financial assistance to help ease the expense burden.
The Thaiger has found a solution for Thursdays. If you go to Lazada, you will find a whole bunch of cheap Thai army clothes in all sizes. Good luck.
THE SOURCE: thai rath