Headline Story: The Reluctant Confederates | Great headlines in history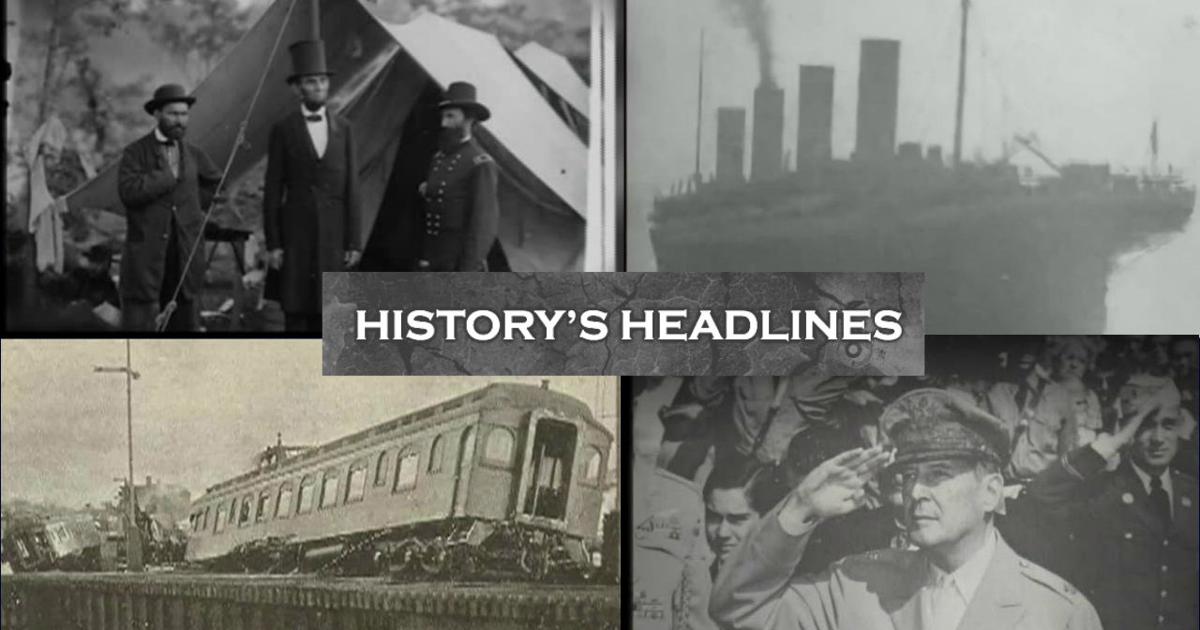 It was the first week of March 1861 and no one had to tell Treasury Secretary John A. Dix that his days in that office were numbered. Dix, a Democratic and New York politician who would later become a Union general and Republican, had been nominated by President James Buchanan in January to a clearly temporary position. Now Buchanan was heading for retirement at "Wheatlands," his estate in Lancaster County, Pennsylvania. With Abraham Lincoln's inauguration on March 4, his time was almost over. But there was a matter Dix had to take care of. Three Treasury agents, a captain and two lieutenants in New Orleans, had returned their ship to the State of Louisiana, aka the rebel government. Assuming they have joined the Confederacy, "it is hereby ordered by order of the President of the United States that their names be struck from the rolls of said service."
In its March 9 issue, Harper's Weekly, which featured a serialization of Charles Dickens' latest novel "Great Expectations," printed a small copy of Dix's order. But the name of one of the lieutenants was misspelled there, either an error of Dix, or of Harper, like Thomas D. Foster. Thomas D. Fister was the man's real name and he was from Kutztown, Berks County.
It was many years later, in 1912, long after his return to Kutztown and his rise in local politics as Colonel Thomas Fister, and while recuperating from a long illness at the home of his daughter and of his son-in-law in Minnesota. that he decided to tell his story to the local press. It appeared under the title "Col. Fister tells why he was a combatant in the Confederate Army. Somehow the author of the title confused the Confederate Navy in which Fister served with the Confederate Army. Fister's testimony did not exist in a vacuum. In the early 20th century, America was redefining itself as a united nation after the Civil War. Like him, many added their perspective on the common relationship between the North and South Tragically and largely ignored, the NAACP recorded in 1912 that there had been 61 lynchings across America, most of them in the South.
Fister was born on October 15, 1838 in Kutztown. He noted in 1912 that he was then the oldest resident of the city. He attended the local public schools, Elmwood Institute in Norristown and in 1855 he entered the United States Naval Academy at Annapolis from which he graduated in 1859. "That year I was appointed to the United States Revenue Marine Service," he noted. He was assigned to the Gulf of Mexico on the revenue cutter Lewis Cass and later on the Robert McClelland commanded by Captain John G. Breshwood. His duties included tracking down smugglers and slaves. Among his exploits, Fister says he helped capture William Walker, the so-called "grey-eyed man of fate", who attempted to establish political and military power in slave-friendly Central America and was later executed.
Fister says that when it was clear war was coming between North and South, he resigned his commission and, unwilling to participate in the war, went to Alabama, married, and acquired a farm. Fister was then drafted by the rebel government, under an act passed by the legislature, into the Confederate Navy. "Shortly afterwards, Confederate authorities ordered me to join the flagship McRae commanded by Thomas B. Hugel, Commodore Hollins in command of the Confederate fleet at New Orleans."
"Although Colonel Fister does not say so," the newspaper article notes, "it is understood that his refusal to comply with orders from Confederate authorities would have resulted in his death."
Fister makes no mention of handing over the revenue cutter to the Confederate government or of Dix's order that their names be struck from the service rolls. Maybe he thought it was pointless to resist since the rebel government would take him anyway. McClelland was renamed CSS Pickens and, armed with guns, saw action in the naval battle around New Orleans in 1862. She was burned to prevent capture after the battle.
At one point, Dix sent a telegram that read in part, "If anyone tries to hoist the American flag, kill them on the spot." But we now know that the Confederates intercepted this telegram and Fister never saw it. Perhaps Dix was unaware that Fister had already resigned from his commission as he claimed.
The McRae was ordered to sail up the Mississippi. Fister states that he was the third officer in command and that they sailed as far north as New Madrid, Missouri. An encounter with an American fleet forced them to retreat. "We retired to Memphis where we learned that (Union) Admiral Farragut was inside the bar under New Orleans with the Federals preparing to pass the forts. The McRae was ordered to the Forts Jackson and St. Phillip with the iron-clad Louisiana, and the cigar-shaped boat under the command of Colonel Mitchell was awaiting completion," says Fister.
On April 24, 1862, Admiral David Farragut led his fleet of ships to the assault. Fister called the Union Flotilla "one of the finest man-of-war fleets of that era". According to one source, the Confederate War Department had always assumed that any attempt on New Orleans would come from the north, and so placed its best armies in that direction. An assault from the Gulf of Mexico apparently never occurred to them. Fister mentions the terrible bombardment suffered by Confederate ships and forts. "Farragut passed the forts with 10 of his 12 boats," he recalls. "Some were repulsed but the only lost Federal ship was the Varano. Their leader being Charles H. Swacy, who was a bosom friend of mine. He was a native of Missouri, attended the naval academy when I did so and was killed by one of the batteries at Fort New Orleans.
Here, Fister's memory was a little fuzzy. Swacy was indeed on the USS Veruna (not Varano) on April 25, 1862, which was the only ship in the Union fleet that was lost that day. He survived, however, and was transferred to the USS Sciota, a gunboat. It was on October 4, 1862, while the Sciota was engaged near Donaldson, Louisiana, that Swacy was killed by the first shot fired by the Confederate battery.
The Confederate fleet is virtually destroyed. "Every Confederate ship was sunk except the McRae which was riddled like a sieve," Fister said. "All but two officers aboard the McRae were killed, wounded, or captured. The exceptions were Lieutenant Charles W. Reed, the ship's executive officer, and myself.
The McRae was authorized to bring the injured to New Orleans for treatment. But only Reed was authorized to escort the wounded into town. Despite advice from a senior officer that attempting to escape was impossible, Fister decided to try. Here is his account:
"I escaped at night in a small deaf rowboat in the company of a Portuguese pilot whose family lived on the coast. (In 1815, many Portuguese sailors and gunners were aboard pirate leader Jean Lafite's ship during the Battle of New Orleans against the British on the American side, and some eventually settled there.) We silently passed through the American fleet at midnight and reached the mainland. just at dawn. I discovered a fisherman's hut where I changed clothes. When we were picketed, I told the pilot to only speak his language while I used Pennsylvania German. The pickets thought we were tramps and let us through.
We walked 24 miles that day when I met a friend who we spent the night with. He gave me a saddle horse and took me to his plantation to find a negro to accompany us to New Orleans, 40 miles away. When we reached what is called the English bend, I sent the negro and the horse back and sabotaged him 10 miles around the river. In town I met my wife who feared for my safety because Lt. Swacy (apparently Fister's friend in the Union Navy) had informed her that I was neither among the wounded nor among the prisoners.
I stayed in New Orleans until General "Ben" Butler took charge of the city, when I crossed Lake Pontchartrain at night in an open boat with three friends. Every Confederate authority I knew was killed except me. I was waiting for orders at Mobile. I was then sent to Virginia where I commanded a Navel Brigade under Commodore Root. Later I fell ill and after Lee's surrender I laid down my arms with General Joseph E. Johnston.
Another source claims that Fister also served on the CSS Selma which fought in the Battle of Mobile Bay in 1864, the largest naval battle of the war. If so, Fister makes no mention of it. His title of colonel comes from his service in the naval brigade. When the war ended, Fister tried to settle in the south. But many other whites were not at all pleased with his sympathy for newly freed slaves. A reporter who interviewed him recorded it this way:
"Col. Fister was one of the first officers in the South to accept the results decided by the Civil War. On his return from service, he declared to his friends and neighbors that "the war was over" and urged everyone to to abandon sectionalism and to enter politics, stating that the master sought to be the best friends and advisers of liberated men.For these sentiments, Colonel Fister became unpopular, and many threats were made by men who did not want to admit that the South was "licked" and that he would do well to go there.
After serving a term in the Alabama legislature, Fister, fearing for his family, returned to Kutztown. Fister didn't have a boring life after the war. Among others, he met Generals Grant and Sherman and enjoyed conversations with them. Among his guests at the house in the 1870s was newspaper editor Horace Greeley.
Fister then expressed remorse for what the postwar South had become:
"If the rulers of the South had been willing to admit that the war was over in 1865, a lot of misfortunes could have been avoided, but we had a lot of stubborn men who were still not over their defeat." He added that radical Republicans "who waved the bloody shirt for political gain" also deserved some of the blame.
For many years Fister was active in state Democratic Party politics and entertained locally at his 16-acre property on what was known as Normal Hill on the road between Kutztown and Reading. Fister died on April 21, 1915, and was buried in Hope Cemetery.
About a month earlier, President Woodrow Wilson was treated to a private screening of DW Griffith's technically brilliant but racist and historically distorted film about the post-Civil War South, "Birth of a Nation." He then performed in front of a large audience. A few months later, the modern version of the Ku Klux Klan directed against Catholics, Jews and immigrants as well as blacks was created.