Drone swarms are not science fiction. America must face this threat.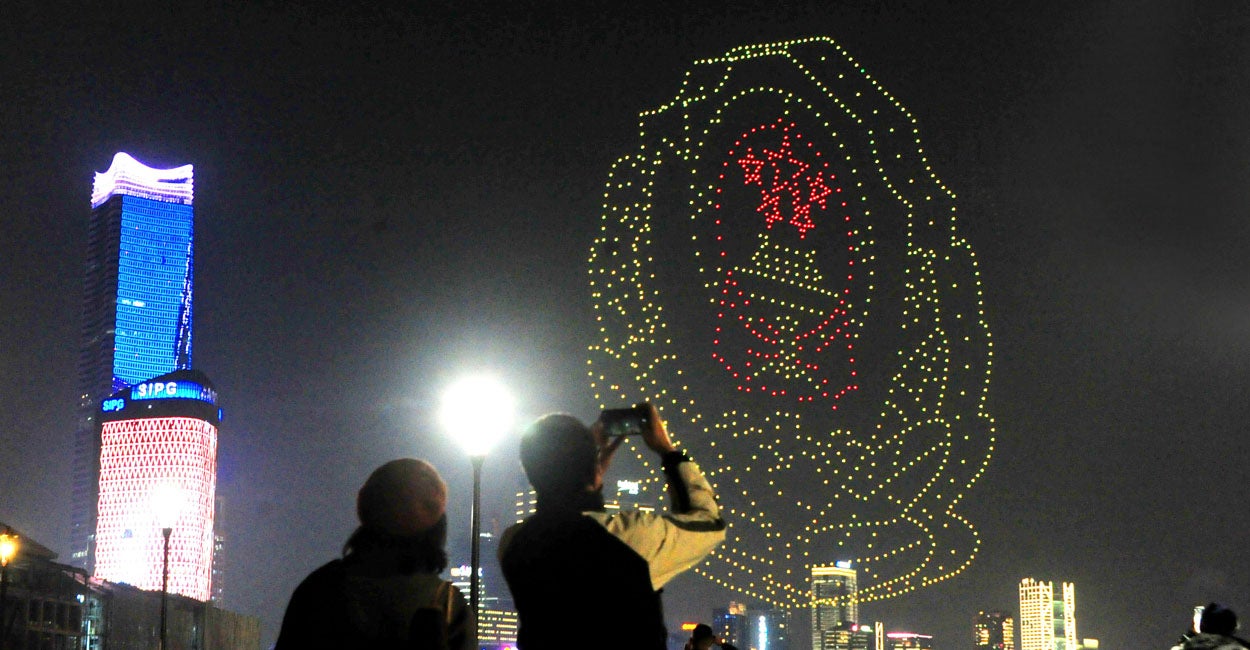 I don't normally write about anything that is fiction. It's a bit of an exception.
Several good novels in recent years have focused on the impending technological divide between China and the United States with respect to cyber espionage, offensive hacking, and unmanned vehicle capabilities. All of this can be lumped together as cheap military power.
One such book is "Ghost Fleet" by PW Sanger and August Cole; another is "2034: A Novel of the Next World War", by Elliot Ackerman and Jim Stavridis. I commend both novels as a strong clarion call for America to up its tech game, and also to examine the challenges the nation may face.
Here is another related scenario, but perhaps even more likely.
It's not necessarily a story of what could happen today, but it's certainly not some distant future fantasy either.
A CIA cyber analyst once told me, "There's a difference between fantasy and science fiction. Fantasy can't exist, it's wizards and dragons (apologies to "Harry Potter" and "Game of Thrones" fans), but science fiction is different. We can't really do it now, but we will in the future, and probably much sooner in the future than you and I think today.
I have never forgotten that wise and prescient observation. The story here is still a bit of science fiction today, but the horizon is very close.
The two aforementioned novels depict the havoc wrought by the Chinese with their cyber and unmanned vehicle capabilities. It's superpower action, but on a tight budget.
The Chinese are willing to spend a lot (and do), but they don't wait to develop "normal" superpower capabilities. They aim to obviate America's capabilities, rendering them ineffective. This would then amplify their own power.
The experts asked, "But will they really do that? According to international relations theory, the possession of a capability by a nation-state does not equate to an intention to use it. The reason: a great nation-state often takes into account other mitigating factors.
China has skin in the international system. It is linked to others economically, such as the United States, and through a myriad of international organizations. The Chinese also have hard targets that can be threatened by kinetic weapons (ICBMs, stealth bombers, etc.). In short, an actor like China can be dissuaded.
The key point in this little tale is the intent of the "other" lesser actors. These can be small rogue states or non-state actors (terrorist organizations, cartels, organized crime syndicates). These actors are often dismissed as irrelevant because they lack the means (monetary, scientific and industrial) to develop the necessary futuristic asymmetric capabilities.
Or do they? Are there ways to overwhelm US defenses? Cyberattack is already on the agenda, but its effects can often be esoteric and hard to feel. Is there a "cheap" way to inflict enough suffering (physical damage, terror, cost) on America in an age of highly targeted cyber defense and counterterrorism surveillance?
Could America be "forced" to withdraw from a region or change a critical policy? Al-Qaeda tried this on 9/11 and paid a huge price. Is there a possibility of a bigger and more durable "throat knife"?
Suppose an adversary gathers a drone swarm of two to three thousand small and medium unmanned aerial vehicles, maybe even up to 10,000 such UAVs. By unleashing such a swarm on an array of industrial targets, overseas military bases or naval vessels, a rogue actor could tip the balance of the policies of a weak administration in Washington.
A swarm is a fleet of unarmed aerial vehicles that can be targeted as a unified whole, either autonomously or directed by a small number of operators to overwhelm the defenses of a target or set of targets.
Currently, a swarm of 1,000 drones could overwhelm the defenses of any major target in the United States or our assets overseas. Drones could enter production facilities, critical power generation or transmission infrastructure, cities, military bases, government buildings, businesses, supply chain critical vessels or our warships at sea. They could certainly disrupt the normal functioning of any major metropolitan area for a considerable time.
As a true nightmare scenario, a swarm of 10,000 drones would be unstoppable.
A cybercrime-savvy Eastern European drug cartel or crime syndicate chooses to target US interests in this way. They have no real "headquarters", no flag, and do not wear a uniform. They have greater financial assets than most nation states and are ruthless in using threats to coerce tech experts into helping them with their plans.
First, they target three different American installations overseas – an oil production facility, a military base in the Middle East, and the third an amphibious ready group (five or six Navy ships and a Navy landing force, or about 5,000 people). They penetrate each target's defenses and inflict extremely high casualties.
Some of the drones carry electronic warfare packages that disrupt each target's communications and countermeasures. Then other drones deliver kinetic strikes to personnel and physical structures. The surprise and confusion caused is almost worse than the deaths, injuries and structural damage.
The attackers then announce more potential targets if America does not comply. Washington holds firm and the adversary starts to go down in its list. US military targets fare better, but even they take severe hits.
The defense systems in place are simply not configured for the small size and large number of attackers. America must give in. The enemies of the American nation states take notice and a new arms race is launched.
Is this story completely absurd? Consider this: Today, you can buy a swarm of 1,000 DJI Phantom 4 drone vehicles on Amazon for just over $2 million. Many legitimate uses exist for such a swarm, but they can easily be turned for deadly purposes.
This is not alarmism. While we currently have no concrete information that a rogue adversary is planning to deploy such a swarm of drones, we also have no real defenses in our military, homeland security, or industrial arsenals that could defeat such a swarm. offensive. It needs to be fixed as soon as possible.
We have detection capabilities for large offensive drones (the predominant variety used by the military) and can target these drones using conventional anti-air assets. The ongoing war in Ukraine has shown the effectiveness of small drones against low-profile targets such as smaller vehicles and headquarters, much to the dismay and blood of the heavy Russian military.
Given the reality of the expanded threat from swarms of drones, which would be orders of magnitude more dangerous than individual drones, the nation must take steps to address this threat before the capability emerges and becomes ubiquitous. .
The Pentagon, the Department of Homeland Security and US industry in general must now broaden the search for solutions. Companies are scrambling to lock in promising technologies for detecting and defeating drone swarms.
Will they get the necessary funding and priorities? And will it be before the threat fully materializes and we are already bleeding?
The answer to these questions could be crucial much sooner than we currently think. We cannot afford to be surprised.
The time to prepare to find and defeat the swarm is now, not tomorrow.
Do you have an opinion on this article ? To chime in, please email [email protected] and we'll consider posting your edited remarks in our regular "We Hear You" column. Don't forget to include the URL or title of the article as well as your name and city and/or state.