China calls Russia talks on possible military alliance "positive", with "no limits" to their ties
China has responded warmly to Russian President Vladimir Putin's suggestion that the two countries may one day transform their strategic partnership into a formal military alliance, bringing together two of the United States' major global competitors.
"You can imagine anything," Putin replied when asked during his discussion Thursday at the Valdai Discussion Club if a military alliance could be imagined between China and Russia.
The Russian leader explained that the reason why such a pact had not already been forged had nothing to do with reservations on either side, but a lack of necessity.
"We have always assumed that our relationship has reached such a degree of interaction and trust that we don't need it, but theoretically it is quite possible to imagine such a thing," Putin said.
He said no such project is currently underway, "but in principle we're not going to rule that out, so let's see."
The next day, the proposal was presented in Beijing, where a reporter put forward the hypothesis during Friday's daily press conference with Chinese Foreign Ministry spokesman Zhao Lijian.
"China has taken note of President Putin's positive remarks on Sino-Russian relations at the annual meetings of the Valdai Discussion Club in recent years, which demonstrates the high level and specialty of our bilateral relations," Zhao said. .
He said anything is possible, given the relationship Beijing and Moscow have developed.
"There is no limit to the traditional Sino-Russian friendship and no restricted area to expand our cooperation," Zhao said. "Under the strategic leadership of President Xi and President Putin, mutual political trust and strategic coordination between the two countries have been strengthened."
China and Russia have a complicated post-imperial past, once forming a massive Communist bloc at the start of the Cold War and later turning against each other until the collapse of the Soviet Union. brought new opportunities towards the end of the century. Ties grew quickly with Putin's rise to power two decades ago and have accelerated since Chinese President Xi Jinping took office in 2013.
While vast differences remain, the two are found more in common today than ever before.
Economically, Xi and Putin have sought to tie the global China Belt and Road initiative to Russia's regional Eurasian Economic Union to help tip the balance of international financial power eastward. . Russia's much smaller economy poses challenges for their trade, but its vast natural resources make it an attractive trading partner.
China and Russia launched a new joint gas pipeline in Siberia in December. The two countries announced last year that they are looking to double their trade, with a goal of reaching $ 200 billion a year by 2024.
Russia has also stepped in to fill gaps in China's military experience, inviting the People's Liberation Army to more joint exercises than ever before. Already a customer of Russia's S-400 advanced surface-to-air missile system, Beijing has contracted aid from Moscow to develop a new missile early warning system, demonstrating deep confidence in two traditionally suspicious powers. the other.
"We have reached a high level of interaction in the field of military-technical cooperation, and that is probably the most important thing," Putin said Thursday. "It's not just about the exchange of goods or the buying and selling of military goods, but the exchange of technology."
He hinted that there was more to come.
"There are very sensitive things here," Putin said. "I won't talk about it publicly now, but our Chinese friends know."
The implications for the United States, a country that has branded both countries as revisionist and revengeful powers bent on overthrowing a rules-based international order, could be daunting.
Countering China and Russia was the theme of US Secretary of Defense Mark Esper's speech earlier this week at the Atlantic Council Reflection Debate, where he discussed a new 'era of great power competition' .
"Our main competitors, China and Russia, are rapidly modernizing their armed forces and using their growing strength to ignore international law, violate the sovereignty of small states and shift the balance of power in their favor," Esper said.
He called for more investment in foreign partnerships to maintain the Pentagon's advantage.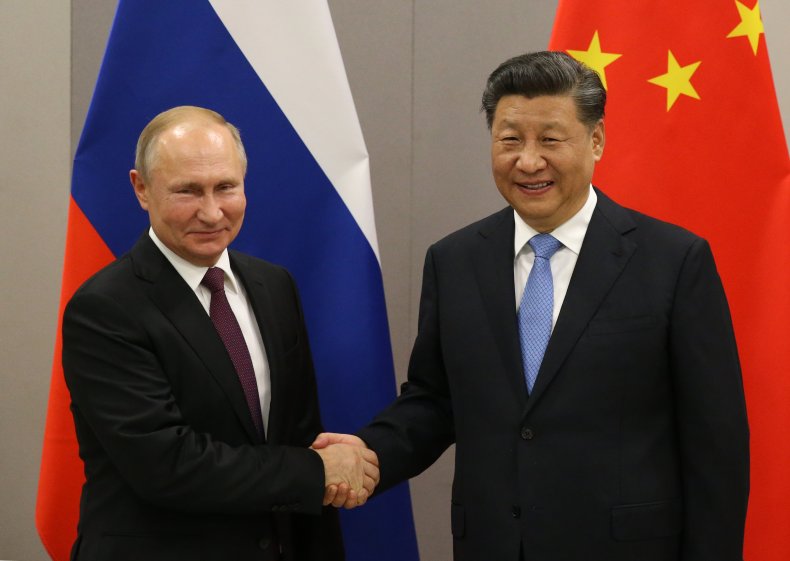 While the United States leads the Western military alliance of 30 NATO members, it has, particularly under President Donald Trump, strengthened ties in the East with Australia, India and Japan in the framework of the quadrilateral security dialogue. Both groups have raised insecurities for Moscow and Beijing, which share concerns about the potential deployment of medium-range missile systems, made possible by the United States' exit last year from the 1987 Nuclear Forces Treaty at intermediate range (INF).
"The intention and the statement of our American partners on the possibility of deploying medium and short range missiles in the Asia-Pacific region, of course, can only alert us, and, without a doubt, we will have to do something. in response, "Putin said Thursday.
On Friday, Zhao also appeared to hope that the two could seize the opportunity to jointly tackle such challenges.
"Our relationship has withstood the test of the changing international landscape and has set a fine example of the development of a new type of relationship between large countries," he told reporters.
And despite concerns in the United States and much of the West about the growing power of this duo, he argued that the two would be a force for good in the world.
"China is ready to work with Russia to comprehensively implement the consensus of our leaders, enrich the strategic essence of bilateral relations, contribute to common development and revitalization, conduct closer strategic communication and coordination and inject more positive energy into global peace and stability, "Zhao says.