Building a city in a day | Securities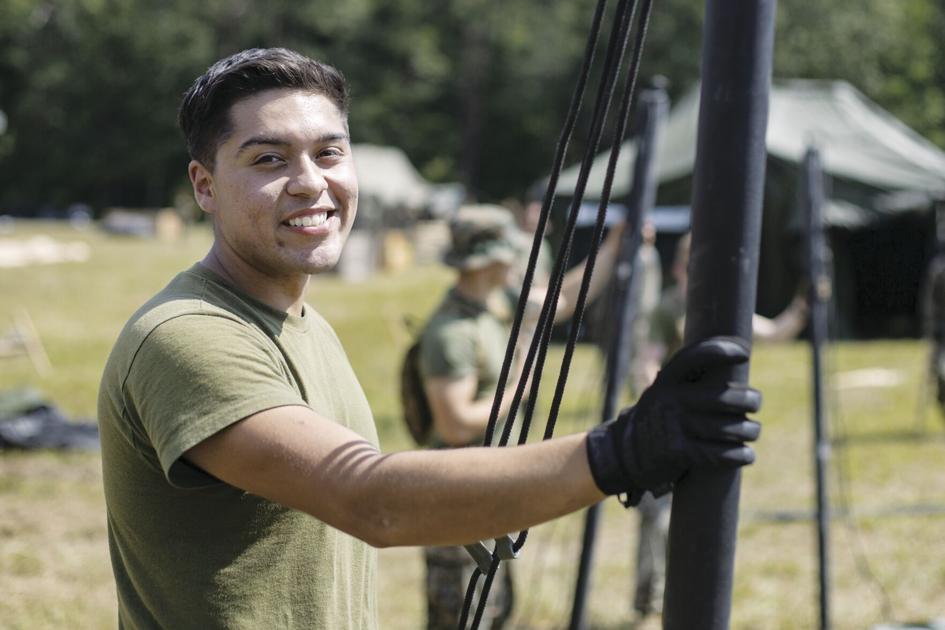 United States Marine Corps Combat Logistics Battalion 2 was preparing to leave Camp Lejeune, North Carolina, in August on a humanitarian assistance mission following an earthquake in Haiti.
But in less than a day, their mission changed.
Afghanistan had fallen into the hands of the Taliban and thousands of Afghan refugees were flown to the United States, so the unit was redirected to the Marine Corps base in Quantico.
"The call came on a Tuesday and we left on a Wednesday. That's exactly what we do as Marines, "said Gunnery Sgt. Anthony Oliva, acting battalion chief of operations.
The unit traveled to Quantico to lead efforts to erect and operate shelters for up to 5,000 Afghan evacuees as part of Operation Allies Welcome at Camp Upshur on Quantico. The refugees, most of whom have landed at Dulles International Airport, remain on the base while efforts are underway to find them jobs and housing in the United States.
Cpl Lance Marine. Scott Jenkins said the unit got to work that first night on Quantico. He only had three days to transform the quarters of the former Officer Candidate School Squad at Camp Upshur – in the far northwest corner of Quantico, near Nokesville – into the "Upshur Village", a place to live. for Afghans.
But Upshur Village still didn't have enough space for 5,000 people. Military and government officials have requested a second location nearby, which is expected to be built from scratch.
The Marines and Sailors of the 8th Engineer Support Battalion stood up to the challenge.
"We got there in the late afternoon and we looked out and saw an empty field that the Marines were still mowing," said Cpl. Elijah Nelson, Engineer Battalion Combat Engineer. "That's what we love to hear as engineers: 'Something has to be built, and fast. This is exactly what we did.
In less than 36 hours, the Marines and Sailors built a site now known as "Pioneer City" to temporarily house 1,000 people. The unit accomplished this by using general purpose tents that the military are often used to setting up for field exercises and other operations.
"We started working as soon as we arrived," said Nelson. "We lived in tents for two people on site for the first week and we worked 24 hours a day."
After a day and a half, 78 large tents were ready. And with immediate shelter provided, the battalion continues to work on improvements.
Captain Michael Curtis, head of communications strategy and operations for Quantico, said cultural considerations are one of the Marine Corps' highest priorities as they seek to give Afghans a sense of belonging while 'they are adjusting to a new life in the United States.
"Working alongside the Department of Homeland Security, the Department of State and various non-governmental organizations has been crucial in respecting the cultural and religious sensitivities of the Afghan people while facilitating their transition to US citizenship and adapting to the standards of daily life. life in America, "Curtis said.
He noted that civil affairs professionals from the Marine Corps were providing civic, cultural and English education courses on-site to Afghans to prepare them for relocation.
A number of other Marine Corps units are contributing to this effort, including the II Marine Expeditionary Force, 1st Battalion 10th Marines and 2nd Marine Logistics Group, he added. Overall, more than 700 troops are supporting Operation Allies Welcome in Quantico.
"These Marines are working alongside our interagency partners to ensure the best environment is maintained to enable a smooth relocation process for our Afghan guests," Curtis said.